Topic Archives:
spiritual experiences
No art work for this topic.
Saturday, August 5, 2017
I found this piece fascinating. Where are your studios?
Also filed in the arts
|
|
Comments Off

on where are your studios?
Saturday, July 22, 2017
But are these beautiful because we think them so, or because they are beautiful in the mind of nature or the mind of God, beautiful by intention inborn in a world beloved?

Beauty is the crisis of our knowing, the signature of love indwelling in all created things, called from nothing by love, recognized and answered by love in the human heart, not reducible by any analysis to any fact.

–Wendell Berry, A Small Porch, Counterpoint Press, 2016
Tuesday, April 11, 2017
What makes for a good interview? I think Dr. Rachael Kohn has it nailed. I had the privilege of being interviewed by her on the Australian public radio ABC show The Spirit of Things, which aired on March 26. She is an exemplar of how we can help good conversations to happen in our daily lives. We can ask questions that bring out the other person, and sometimes stretch them in an accepting context. We can take time to listen to the answers, rather than thinking about what we are going to say next. We can find out about the other person, and engage with them, not use them as a vehicle to press our point of view. When in the course of research, I  interviewed people about the practices that were important for compassionate love, 'really listening to the other person,' was one of those practices.
Rachael engages in conversation with a perfectly lovely voice, and that helps this too. She sets the person at ease through her respectful and honest attitude. She gently asks probing and sometimes hard questions, which enable interpersonal connection and understanding to happen. Of course, a conversation that is designed to be broadcast, and happens between continents, can never be like one over coffee or at home, and because it was an interview I didn't get to ask her questions, but nevertheless, this same kind of asking and listening can happen in our own living rooms or when we are in a variety of social situations.
The show, which includes a poem and quotes from the Spiritual Connection in Daily Life book, is now up on the ABC website, where it can be played or downloaded http://www.abc.net.au/radionational/programs/spiritofthings/are-you-spiritually-connected/8376242  Her balanced approach provides a model for us all for how to make a space for truly good conversation.
Thursday, March 16, 2017
One of my favorite ways of sketching is to do blind, or semi-blind, contour drawing. In it, you try not to look at your paper at all, and not lift your pen, while you draw. You look at the subject, not the paper, and feel your way around and within your subject, as you draw with your pen or pencil. I was first exposed to this method in a studio drawing class in college and found it marvelous. When I do this while drawing a person, it connects me with the interior feelings of the person. It reminds me that the visual nature of the person is not just about 'looking good,' and that the success of a drawing is not in its photographic likeness. It also draws my attention to how we can perceive some of the complex life of a person even through outer appearance. It is, for me, a kind of spiritual exercise.
You may wish to try it. All you need is a pencil, paper, and a subject. The easiest to start with is yourself in a mirror. More details about this method can be found in a book by Kimon Nicolaides, A Natural Way to Draw.

Wednesday, March 1, 2017
I feel that art has something to do with the achievement of stillness in the midst of chaos. A stillness that characterizes prayer, too, and the eye of the storm. I think that art has something to do with an arrest of attention in the midst of distraction.
Saul Bellow, the Art of Fiction No. 37, 1966, The Paris Review
Also filed in the arts
|
|
Comments Off

on arresting attention
Saturday, February 25, 2017
Poets can open our hearts and touch us. Robert Frost does this for me in his poem 'Birches'.  The complete poem can be found at https://www.poetryfoundation.org/poems-and-poets/poems/detail/44260 or in The Poetry of Robert Frost (1969).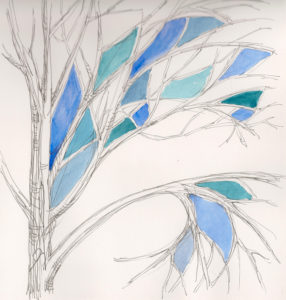 When I see birches bend to left and right

Across the lines of straighter darker trees,

I like to think some boy's been swinging them.
And then after Frost digresses about how ice storms bend the trees downwards, he continues:
By riding them down over and over again

Until he took the stiffness out of them,

And not one but hung limp, not one was left

For him to conquer. He learned all there was

To learn about not launching out too soon

And so not carrying the tree away

Clear to the ground. He always kept his poise

To the top branches, climbing carefully

With the same pains you use to fill a cup

Up to the brim, and even above the brim.

Then he flung outward, feet first, with a swish,

Kicking his way down through the air to the ground.

So was I once myself a swinger of birches.

And so I dream of going back to be.

It's when I'm weary of considerations,

And life is too much like a pathless wood

Where your face burns and tickles with the cobwebs

Broken across it, and one eye is weeping

From a twig's having lashed across it open.

I'd like to get away from earth awhile

And then come back to it and begin over.

May no fate willfully misunderstand me

And half grant what I wish and snatch me away

Not to return. Earth's the right place for love:

I don't know where it's likely to go better.

I'd like to go by climbing a birch tree,

And climb black branches up a snow-white trunk

Toward heaven, till the tree could bear no more,

But dipped its top and set me down again.

That would be good both going and coming back.

One could do worse than be a swinger of birches.
Each of us may be touched differently by this poem. The full poem can transport us into the woods, the natural world. The description of the boy can take us back to the sense of adventure and freedom of swinging and climbing as children, and even our adventures as adults. But the poet also gives a way to think of our desires to be free of the constraints of the world, when our faces 'burn and tickle with the cobwebs' and 'one eye is weeping from a twig's having lashed across it.'  Yet, he reminds us:  'Earth's the right place for love.'  We launch out in this wild world that is the right place for love.
Also filed in
|
Tagged poetry
|
Comments Off

on listening to birches
Monday, December 12, 2016
I am involved in a project at Yale University on joy, considering what science might have to contribute to our understanding of it. I have also been doing more work and writing on how dire circumstances can help us dispel certain delusions of thinking. These words speak to both:
The basic assumption of the happiness mentality—in spite of considerable hard evidence to the contrary—is that if one lives one's life correctly one will be happy. The corollary of this assumption is that if one is not happy, one is doing something wrong. These two beliefs form the foundation of a system that has become so rampant in recent years that many people now feel any sign of unhappiness in their lives is a symptom of psychological or spiritual disorder. People who believe this strive to resolve or repress unhappiness as quickly as possible….

The happiness mentality causes people to repress or deny many of their own negative feelings. It prohibits the rich experience of living through painful situations, of fully feeling and being in the sadness, grief, and fear that are natural parts of human existence. It fosters a pastel quality of life, with limited ranges of emotion. Some shallow conditions of 'happiness' may be achieved in this way, but joy is altogether out of the question. Most of us know that prohibiting agony in the experience of life must also prohibit joy. To try to accomplish one without the other is to dilute both the experience and the meaning of life. But the happiness mentality can overcome this knowledge, convince us that sadness is unhealthy, and cause us to bridle all our feelings. At best, this watered-down existence takes on a 'Pollyanna' atmosphere, denying the negativity of life. At its worst, it sinks into apathy, denying life itself.

Human beings who adhere to the happiness mentality are continually attempting to deprive themselves of the rich dark side of life, the leaven, the creative complementarity without which happiness is empty. If these attempts are successful, life's experiences become as flimsy as tissue. If the attempts fail, people feel that something is deeply wrong inside them. Neither way allows the precious beautiful, awesome possibilities of accepting the richness of life as it presents itself in each moment.

Perhaps the greatest inherent defect of the happiness mentality is that it prohibits sensitivity and responsiveness to the suffering of others. The happiness mentality maintains that one must first organize one's own life toward the absence of discomfort. Even if a person manages to accomplish this for a brief period of time, the terrible pain in the rest of the world still exists. One then has an extremely limited range of options in responding to this pain. One can deny it, shut it out of awareness through 'selective inattention,' or one can engage in brief sophomoric attempts to rationalize it. But the fact remains: private happiness can exist as a permanent condition in the midst of public suffering only if it is based on delusion.

(This is of course not to say that one must carry the world's burdens on one's shoulders with constant morbidity. In fact, the happiness mentality is in large part a rebellion against precisely this kind of puritanical pessimism. It was not too long ago that people in our culture were looked upon with suspicion if they appeared too happy. Many puritanical-pietistic themes of Middle America maintained that life was hard, that each person had to bear the cross, and that suffering was good for the soul. It was believed that something was morally wrong with people who did not seem to be struggling with the pain of life. It is not surprising that generations of such somber sobriety would eventually bring rebellion. As usual, however, the pendulum swung too far. Now, instead of happiness being seen as a moral impropriety, unhappiness is seen as a psychological defect.)

Whenever one is preoccupied with happiness, the possibility of joy is pre-empted. Poets, contemplatives, and some philosophers have long maintained that a fundamental qualitative difference exists between these two states, but our society is just barely beginning to appreciate how radical that difference is. Happiness has to do with Freud's old pleasure principle: the satisfaction of needs and the avoidance of pain. Joy is altogether beyond any consideration of pleasure or pain, and in fact requires a knowledge and acceptance of pain. Joy is the reaction one has to the full appreciation of Being. It is one's response to finding one's rightful, rooted place in life, and it can happen only when one knows through and through that absolutely nothing is being denied or otherwise shut out of awareness."

May, Gerald. (1987). Will and Spirit. Harper and Row. pp 14-16
Wednesday, November 30, 2016
Also filed in
|
|
Comments Off

on memo to self
Sunday, May 29, 2016
We must always tell what we see. Above all, and this is more difficult, we must always see what we see."        –Charles Peguy
Wednesday, May 18, 2016
I found myself trying to find words and image to convey something of this tiny arm and hand full of promise.
Milagros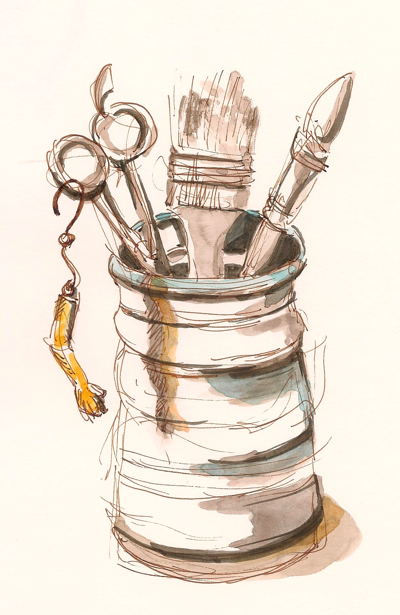 Loose
in the breeze of the holy
spirit
draw near
flow through
unclench –
no need.  New
power now.
Will of good pleasure
through my body
my arms
my hands.
Thursday, April 7, 2016
I have asked people what kinds of things they thought of, when they felt 'thankful for their blessings.' One lady replied that after recovering from a bad cold, she really appreciated the taste of tomatoes. So often we just don't notice wonderful things until we lose them.
Also filed in the arts
|
|
Comments Off

on juicy