Topic Archives:
Uncategorized
No art work for this topic.
Saturday, June 9, 2018
"One learns who one is and it is at one's peril that one attempts to become someone else." —John Barth
Also filed in
|
|
Comments Off

on the peril of trying to be someone else
Sunday, November 19, 2017
The person is prudent who does not allow his vision of reality to be controlled by the yes or no of his will but rather makes this yes or no of the will dependent upon the truth of reality.
-Josef Pieper summarizing Thomas Aquinas
Also filed in
|
|
Comments Off

on vision
Saturday, October 8, 2016
Some people say that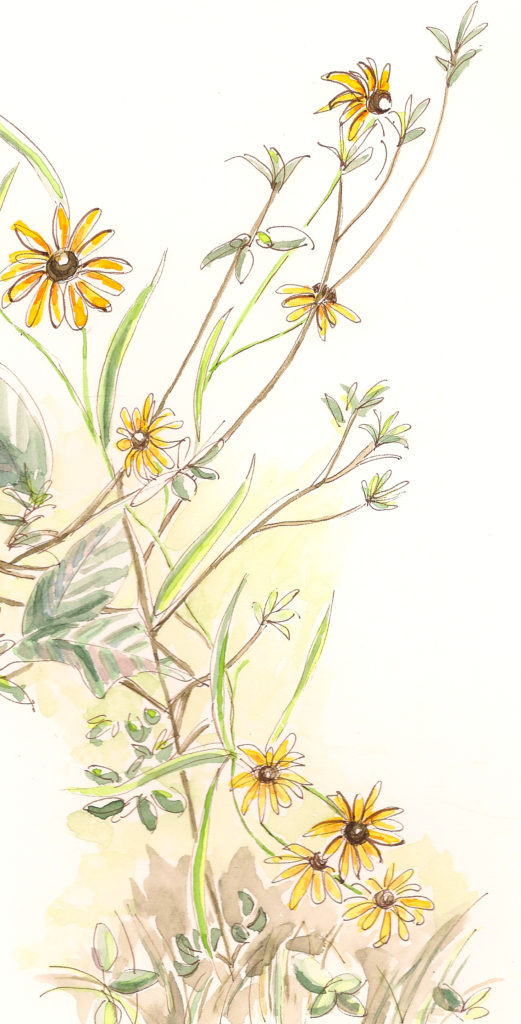 weeds are just plants that are growing in the wrong place. I recently drew some plants of indeterminate nature outside our front door. A final burst of flowers before autumn hits.  I often have trouble telling weeds from flowers. It is the same in my life too – sometimes those things I am sure are weeds, end up with beautiful blooms.
Also filed in
|
|
Comments Off

on weeds?
Monday, September 19, 2016
Brush it on, rub it off,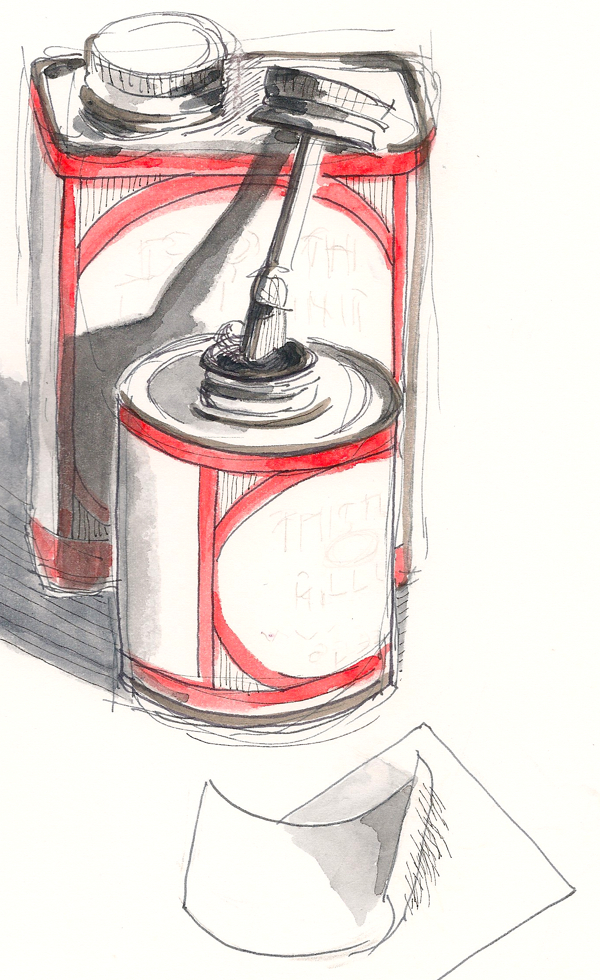 under or over,
Rub-ber ce-ment.
What keeps us together?
What pulls us apart?
Strings of sticky.
Separation– no tearing.
Closeness– no wrinkling.
Together–apart–together.
Sunday, September 20, 2015
"I like the feeling of being able to confront an experience and resolve it as art."

—Eudora Welty, novelist
Do you have an art form that you enjoy? If not, is there one you want to try? Photography, Music, Sketching, Writing fiction or poetry? Your creative path may even be in your garden or your kitchen.  Doing art can increase our awareness of the beauty and coherence of the ordinary.
Also filed in
|
|
Comments Off

on resolving through art
Wednesday, August 19, 2015
Useless
Hui Tzu said to Chuang Tzu:
"All your teaching is centered on what has no use."
Chuang Tzu replied:
"If you have no appreciation for what has no use
You cannot begin to talk about what can be used.
The earth for example, is broad and vast
But of all this expanse a man uses only a few inches
Upon which he happens to be standing.
Now suppose you suddenly take away
all that he is not actually using
So that, all around his feet a gulf
Yawns, and he stands in the Void
with nowhere solid except right under each foot:
How long will he be able to use what he is using?"
Hui Tzu said: "It would cease to serve any purpose."
Chuang Tzu concluded:
"This shows the absolute necessity of what has 'no use.'"
(From The Way of Chuang Tzu, transl. by Thomas Merton, 1965)
Also filed in
|
Tagged poetry
|
Comments Off

on useless?
Friday, August 7, 2015
At the farmers market in Michigan a few weeks ago, I bought a punnet of sweet carrots. On arriving home and unpacking them, I discovered these. Sometimes things we think are impossible are possible after all.
Also filed in
|
|
Comments Off

on six impossible things before breakfast
Monday, July 20, 2015
"To allow oneself to be carried away by a multitude of conflicting concerns, to surrender to too many demands, to commit to too many projects, to want to help everyone in everything is itself to succumb to the violence of our times." – Thomas Merton
Thursday, January 1, 2015
While looking through the little notebooks that I keep when I travel, reviewing jottings from this past year, I discovered notes on a graphic novel called Everything We Miss by Luke Pearson in the Fruitmarket art gallery in Edinburgh.  The back blurb reads,  "Have you ever wondered what goes on in your life when you're looking the other way? Perhaps you're so drawn into what's going on with you that you fail to notice the events taking place in your periphery—or even right under your nose?"
One of my New Year's Resolutions is to pay attention to the little things around me, and appreciate them…those treasures that I so often miss. Hidden glory.
Also filed in
|
|
Comments Off

on Everything we miss
Thursday, February 27, 2014
"A body tends by its weight towards the place proper to it – weight does not necessarily tend towards the lowest place but towards its proper place. Fire tends upwards, stone downwards. By their weight they are moved and seek their proper place…. Things out of their place are in motion: they come to their place and are at rest. My love is my weight: wherever I go, my love is what brings me there."
– St Augustine
Friday, November 1, 2013

This summer I was invited to give a presentation on the Daily Spiritual Experience Scale at the School of Conflict Analysis and Resolution at George Mason University.  One of the uses of the 16 Daily Spiritual Experience Questions is in opening conversations to bridge differences in beliefs, and help in community building.  After the presentation and the lively discussion, Jacqueline Greiff, the Executive Director of their Center for Peacemaking Practice, invited me to be interviewed. You can listen to a podcast of this by scrolling to the bottom of the page at http://scar.gmu.edu/cpp/podcast
It excites me to see how useful the 16 DSES questions are for those from so many religions, as well as those who are not comfortable with religion.  The specific experiences that people have can bridge differences in belief and culture, often creating connections at a deep level between people. The resulting conversations do not reduce spiritual experience to mush, but create space for the marvelous variety and depth of experiences that sustain and enrich so many different people's lives.
Saturday, October 26, 2013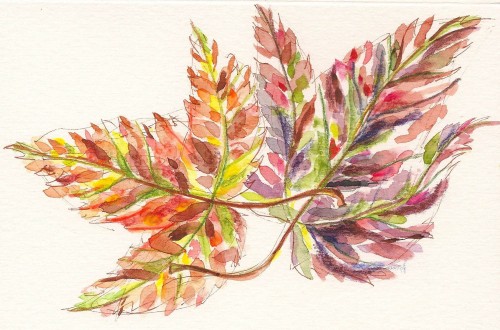 I noticed these leaves while out walking today, and picked up these two from the grey pavement to take home. I drew and painted them to help the beauty stick with me longer. As they sit here on the table together, I also find myself thinking about my relationships with those I am close to.
Saturday, October 19, 2013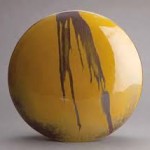 "Art in the spirit opens a window onto these transcendental realities of which the ancients called the Passio Entis, the "accidents of Being." They are the Holiness of all that is. And from these transcendental involvements flow all the other humanizing values of our existence: love, compassion, simplicity, fidelity, forgiveness, freedom, justice, peace. For you see it is the function of art to open the human heart."
Some food for my morning contemplative time these past weeks has been a beautiful book, Creation out of Clay: The Ceramic Art and Writings of Brother Thomas
(Ed. Rosemary Williams, Pucker Art Publications, Boston 1999, Eerdmans, Grand Rapids)
It is a large book full of luscious pictures of Brother Thomas' pottery that make me want to touch them, and full of his essays, which include wisdom that feeds me.