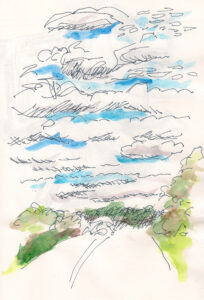 I 'listen' to poetry to hear what speaks to me.  Each of us hears a poem in a different way.  I have been finding nourishment in these lines from the poem "Somewhere" (from Laboratories of the Spirit, Macmillan 1975) by the Welsh poet R.S.Thomas.
What speaks to you in these lines after reading them slowly?
…the point of travelling is not

to arrive, but to return home

laden with pollen you shall work up

into the honey the mind feeds on.

What are our lives but harbours

we are continually setting out

from, airports at which we touch

down and remain in too briefly

to recognize what it is they remind

us of? And always in one

another we seek the proof

of experiences it would be worth dying for.

…Surely there exists somewhere,

as the justification for our looking for it,

the one light that can cast such shadows?
Where do you find evidence of "the one light that casts such shadows"?  Now that you are spending more time at home, do you find yourself using the pollen you have gathered up on your travels in the past, to make honey for your mind to feed on?