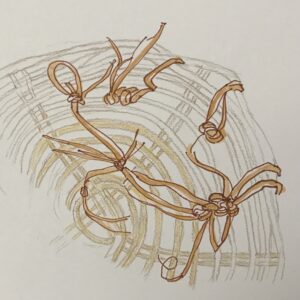 When we have experienced emotional or physical or relationship damage in the past, it can continue to feel frustrating at best and irreparably harmful at worst.  I so often look at the broken places as problems, limitations, and inadequacies. Or I try to ignore them. But the kintsugi approach actually highlights the beauty in repairs.
The Japanese word kintsugi describes the ancient art of repairing broken pottery by mending the areas of breakage with lacquer dusted or mixed with powdered gold, silver or platinum. Kintsugi takes a broken piece of pottery, and uses precious and beautiful lacquer to highlight all those places where the breakage happened. The end result is something that many would say is even more beautiful than the pristine original.
Kintsuge treats breakage and repair as part of the history of an object, rather than something to disguise. Reflecting on this is helpful for me. The kinds of damage we can experience can include things like emotional abuse, physical illness or injuries, treatments for cancer, relationship break-ups, or forced relocation.
I have had a laundry basket for decades. The lid has slowly been breaking apart at the edges.  I decided to repair it using raffia pieces that came in some packaging.  I tied the raffia pieces to the edge places where it was breaking to hold them together.  This is a drawing of the result. Someone commented on this drawing, and said that it looks like the raffia pieces are dancing.  I can look at this basket lid, and reflect on the same for my life.  I can react to the injuries, and make beauty, and creatively respond.  Fully acknowledging the injuries, the hurts, the damage, but also reveling in the dance of my responses.